"What the hell is in Hollywood's water ???"  I couldn't help asking myself that question when I saw the latest headline the other day:  "Mariah Carey pregnant with twins."
Is it just the fact that I myself am a Mama of Double Joy (or Double Trouble, depending on which day you talk to me), or has there suddenly been a flourish in celebrities having twins ?
Forget the Hermes Birkin Bag, the Christian Louboutin pumps or the Chanel vintage red-carpet dress.  Geez, having an Oscar or a Grammy Award doesn't even cut it anymore.  Identical or fraternal.  Having twins seem to be all the rage at the moment.
The celebrity gossip magazines (and we all know, that reading them is one of my addictions favourite pastimes) are covered with photos and stories.  We see Brangelina strutting through Narita Tokyo International Airport, each of them with a twin strapped to their chest in a Baby Bjorn.  Then, there's Jennifer Lopez appearing in a glamorous Gucci photo shoot with her two little Latino lovelies joined to her hips.   Of course, we can't forget Fashion Royalty herself – Sarah Jessica Parker.  Proclaiming that she's a lot more low-key than her alter ego, "Carrie", SJP's real-life fashion style is still uber cool – complete with carrying a twin…whilst holding a Manolo Blahnik shopping bag, no less.
Don't fret.  I'm not turning into one of those bloggers who can only write posts about celebrities and not much else (Lucky you, I have a plethora of stories yet to come).  But once I read the Mariah Carey news, I couldn't ignore the uncanny trend that's happening in the world of celebrities.  Besides the above mentioned, there's Celine Dion, Charlie Sheen, Julia Roberts, Rebecca Romijin, Roger Federer, Marcia Cross (the crazy red-head in "Desperate Housewives").  Hello, even "our" Princess Mary is joining the multiple births parade.  The list goes on and on…and will surely continue.
I must also point out that in writing this post, by NO means am I putting myself in the same A-List category as these movie stars, pop-singers and ridiculously gorgeous people.  I'd be pushing to get to the D-List (That's the Sydney suburban circuit we're talking about.  You know, a random photo in the local play group Christmas newsletter).  As a SAHM who has minimal human interaction these days, I spend a LOT of time blankly staring into a revolving microwave while heating up the twins' dinner day-dreaming and conjuring up some of the things I would say to these celebrities if I had them over for dinner…or bumped into them at a twins mother's group.
Let me share them with you:
Jennifer Lopez:

J-Lo, (Can I call you that ?), girlfriend, honey, how did you manage to do that fabulous shoot without getting an ounce of drool, baby poo or left-over blueberry and banana puree over those pricey Gucci threads ?  Oh, and your little boy Max's sunglasses ?  They are THE BOMB.  Can you tell me if Target stock the cheaper version ?
Sarah Jessica Parker: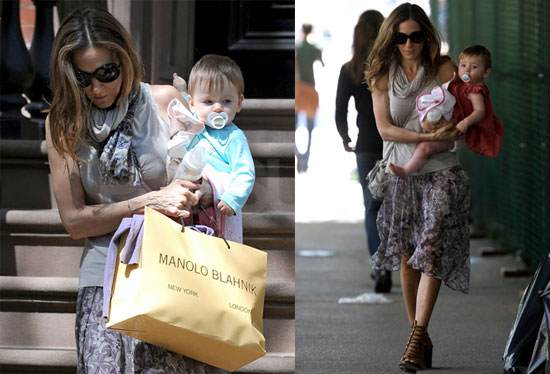 SJP, let me know when your cute little girls are ready to start dating.  I have the perfect Mr Big suitors for them.  Now, I don't think my boys have plans on becoming Wall Street finance moguls but will you settle for future professional surfers or AFL players ?  Let's catch up over a Cosmopolitan and discuss.
Brangelina: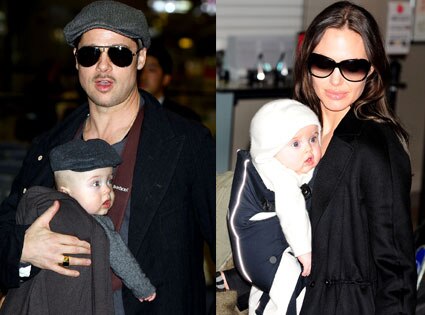 Guys, let me know next time you're passing through the neighbourhood.  I would love to borrow your entourage of nannies, personal chefs, private tutors as well as your private  jet plane.  Whilst your twins (and entire "rainbow family") have trekked 3 round-the- world trips prior to their 2nd birthday, we have barely gotten our friggin' act together for organised our first family holiday to Tassie.
So, with that, I leave you with my 2011 prediction for the next celebrity who is set to having twins. Always-unlucky-in-love Jennifer Aniston takes on a much younger lover and hooks up with teen heart-throb Zac Efron and has identical twin boys.  Crazy ?  You never know.  Stranger things have happened in Hollywood…