This post was written last year on my previous blog during our first beach holiday to the Gold Coast.  Whatta memorable trip that was…
************
What I love about blogging is that you find connections with people who you wouldn't usually know in real life.
And then adding a deeper layer to that, is that it may be someone who unassumingly reminds you of important values.
Or unintentionally help you overcome a fear.
I'm serious.
Blogging can do that.
Yesterday morning, I finally met up with two of my favourite bloggy buddies, Kirri and Penny.
But if it were not for blogging, I couldn't have relied on fate's whim for a chance to meet them.
Kirri has encouraged me to join in on her 14 Day Meditation Challenge.  Thanks to her, I've achieved ten minutes of meditation, which resulted in the most awesome night's sleep.  Ever.  (More on that later…)
Then, there is Penny and her deep desire to spread the word about the importance of preserving wildlife.
She loves her job so much that on her day off,  she took us to meet all her little critters while carting her toddler and 9 month old twins along.
Hard core.
Previous to the little excursion, she had joked about how she was going to introduce me to some of  her slinky friends.
I joked back and told her that I had always wanted to do the whole Britney Spears thing.
You know, carry a python on your shoulders, looking all sexy and unperturbed…
That was me trying to be funny while in fact, hiding my intense fear of snakes.
Hilarious, right ?
Well, she called my bluff.
There we were, in a tiny room and she pulled out her buddy, "Darth" – a python of sorts.
It's eyes were a piercing blue, its slithery tongue darted in and out.
I was ready to pass out.
But amongst the chaos of babies screaming (hers and mine) and the pressure of knowing that it was indeed a case of "Carpe Diem", I finally let Penny convince me that she could place Darth over my shoulders.
In fact, she turned on her strict Wildlife Education Officer voice and said something along the lines of:
"I'm going to put this thing on you, whether you like it or not, Grace"
Holy crap.
And although, I was aiming for this kinda effect: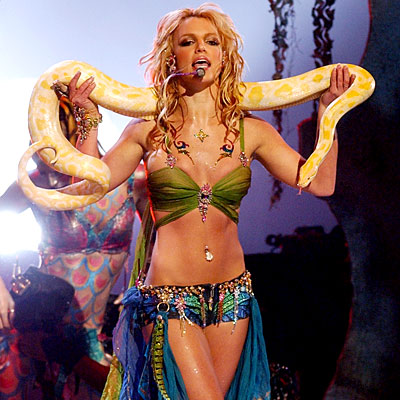 I managed this:
Same, same but different ?
I still don't like snakes very much.
But did I tell you how much I love blogging ???