This miserable weather sucks pineapples.  Big ones.  Where's my dose of Vitamin D ???  I rely heavily on Sydney's usually sunny days to get out of the house and keep my boys and I away from bouts of moodiness caused by sheer boredom and restlessness.
Sooooo, in a (kinda) follow up from my previous post, I thought I'd make an attempt to remind me of what keeps me from going around the banana bend.  Here's my Top 10 list. There's nothing radical. Some of these may be considered as "no-brainers". But hey, when you're a stay at home mum of twins, your resources are limited.  It's an eclectic series of the shenanigans that I get up to when I am let loose and given 30 minutes of completely-undisturbed-heaven-sent free time (Yipeee !).
1.  Watch An Episode Of "Modern Family"
Isn't it funny how a show about a dysfunctional family (Well, 3 of them) is in the top of my list of things that help me keep sane ?  I especially love the episode where Lily the baby bumps her head while wearing a Diana Ross (In her RCA years) afro wig.  Love, love, love it !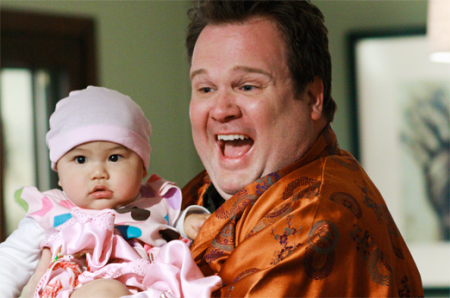 2.  A Caffeine Hit
I had given up coffee for a good 3 years even before I was pregnant.  But 6 months into motherhood and I fell off the bandwagon.  These days, I swear I could completely immerse…no, no, no…drown myself in a bath of cappuccino.  Love the stuff.  But, I do my very, very best to stick to the one-cup-a-day rule.  So, like a pilgrimage to Mecca, I walk/drive (pending on weather) up the road to my favourite local coffee shop and grab a LARGE cappuccino (No sugar, thanks…I'm sweet enough..).
3.  Having A Gas-Bag
Friends.  Communication.  Can't live without either and it takes all types of buddies to help you put things into perspective.  There's the chat with a fellow mummy to compare who's more exhausted.  Then, there's the conversation with a non-mummy gal pal to catch up on goss and live vicariously through their fabulous life.
4.  Escaping to Hollywood
It's like that line Miranda uses in SATC when her trashy gossip magazines arrive at her new home in Brooklyn: "Let it go, it's my thing."  And then she sits in the corner, reading the tabloids from cover to cover.  Every Friday – rain, hail or shine – with my $10 note clutched in my hand, I race down to the newsagency to get my weekly dosage of salacious celebrity goss/trash from Who Weekly and OK ! publications.  Who's Jennifer Aniston hooking up with this week ?  Is Katie Holmes pregnant ?  Why did Eva Longoria Parker file for divorce ?  It's evil and wrong but I can't get enough of it.
5.  The World According To Stalkbook Facebook
"Hi, I'm Grace and I'm a Facebook addict…I haven't logged onto FB for….7 minutes now…"  Again, another terrible obsession.  But my mother-in-law summed it up perfectly: "It's your lifeline, dear".  Where would I be without it ?
6.  Soaking In The Bubbles
…Or in my case, bath salts.  A tub of warm water, a generous handful of Radox Muscle Soak Herbal Bath Salts, some lit candles (Pomegranate scented, no less) and Newton Faulkner on the iPod…Aaaah !  I transcend to another world.
7.  Bust A Move
Madonna, Marvin Gaye, Abba…my lounge room is my disco.  One morning, reliving old high school memories, I performed a dance routine for my boys.  It was to the 80's, Madonna classic, "Holiday" and had all the cool moves.  Despite being proud as punch that I actually remembered most of the steps and motions that my friend and I had choreographed all those years ago….my (at the time) 6 month old sons gave me a puzzled look.  All that effort, yet little return.  Typical.
8.  Tinkling On The Ivory
Music is therapy.  I'm no Liberace or Stevie Wonder but my Gors & Kallman piano and I…we go a long way.  Sometimes I pretend I'm playing at some sophisticated, smoky jazz club like The Basement.  What the hell…why else were we blessed with a sense of imagination ???
9.  The Ocean
We're blessed to live 10-15 minutes away from one of the most beautiful beaches in the world (Biased much ?).  Despite the recent fuh-reezing ice cold temperature of the waters at Bondi Beach, there's no other feeling than the one experienced when diving into your first wave.  I always come out feeling invigorated.  That dull headache (caused by 24-48 hour house confinement and screaming banshees) always clears itself in the ocean.
10.  Sweat It Out
Last, but certainly not least…exercise.  The jogging, the kickboxing, the weights, cardio…I used to loathe it all.  It was like a chore.  Now, it keeps me focused.  It's the fresh air.  It's the fact that I'm given a task that isn't related to bottles, bibs or baby poo.
So there you have it.  My list.  Come on.  I dare you.  What's yours ???